Kara no Shojo - The Second Episode
In the period known as "pre-war," when Japan was taking its first steps into conflict... In the snowy mountains of the west, there is a settlement called Hitogata. In this place, with its strange custom of worshipping a clay doll called Hinna-sama, a woman is killed on the night of a festival.
The villagers unanimously refer to this incident as "Hinna-sama's Curse." They say that she was cursed for worshipping Hinna-sama despite being unworthy.
December, 1957.
It's been almost two years since Kuchiki Toko was abducted from her hospital room. Tokisaka Reiji's sister, Yukari, saves a man attempting to commit suicide. The man is a victim of "Hinna-sama's Curse," which has resurfaced in the present...
Tokisaka Reiji acts to sever the delusions that span the war. All the while carrying his own delusions about Toko in his heart... At the same time, a religious group that was thought to have disbanded six years ago begins to move again.
What could it be scheming?
Even if Heaven brings down a curse, it is human hands that enact it.
---
---
Close
The Music of Kara no Shojo The Second Episode
Track Listing
01. Prelude
02. Doll Colony
03. Doll Colony: Twilight
04. Doll Colony: Disquieting
05. Hinagami
06. Shigusa
07. Kuroya
08. Friends
09. Friends
(Pure Arrangement)
10. Mirror
11. Miko
12. Hinna-sama
13. Thorn
14. Curse
15. Doubt
16. Maiden's Heart
17. First Love
18. Tsuki no Uro
19. Kara no Shoujo
20. Snowfall
21. Snowflake
22. Rosemary
23. Crocus
24. Petite Plume
25. Ciel
26. Puzzlement
27. Carol
28. Days II
29. Moonlight
30. Belief
31. Time
32. Moon World II
33. Mid Moon
34. Cherry Blossoms II
35. The Sheep of Purgatorio
36. Purgatorio
37. Criminal Investigation
38. Reasoning II
39. Reasoning II
(Arrangement 1)
40. Reasoning II
(Arrangement 2)
41. Tension
42. Strain
43. For You…
44. Trigger
45. The Other Side
46. The Other Side
(Arrangement)
47. Blessed Congregation
48. Blessed Congregation
(Arrangement)
49. Dark Thread
50. Together…
51. Reason
52. The Moon Sleeps
53. "Hole in the Moon"
54. "Jade Wings"
55. "Solenoid"
56. Toko
---
System
Detective System
The goal of Innocent Grey's Kara no Shojo 2 is the same as its predecessor, Kara no Shojo — for the player to investigate and deduce the mystery, leading the case to its conclusion. This game is also the largest and most intricate of IG's games yet, with a fully voiced cast, including the protagonist.
The Detective System has evolved with each entry in the series. The Detective System largely consists of these four parts: "Story," "Exploration," "Investigation," and "Deduction." Each part is seamlessly integrated into the story, creating an enjoyable "game," rather than merely a "visual novel."
Notebook System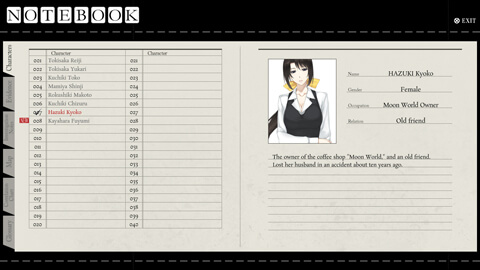 Character List
Profiles and characteristics of the characters. Updates over the course of the story and serves as options for choices in the Deduction.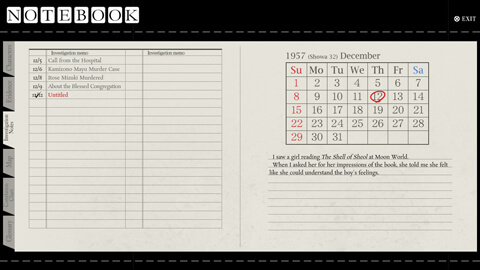 Investigation Notes
Updates when the investigation progresses or when incidents occur. Allows the player to verify the basic course of the story.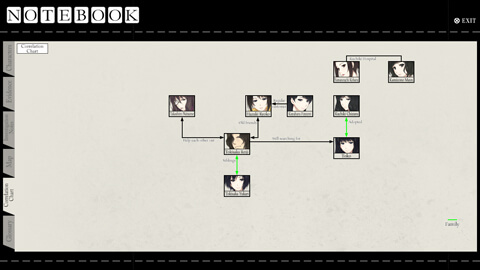 Correlation Chart
A correlation chart displaying the complex relationships between characters. Updates over the course of the story.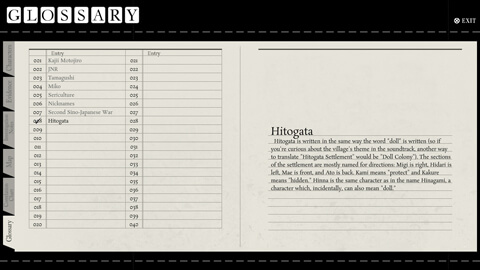 Glossary
The English translation of Kara no Shojo 2 adds a glossary to the notebook with translation notes for some of the more obscure terminology and references in the game. It can be accessed from the notebook when playing the Tokisaka perspective parts of the game, and from clicking the terms that appear in the game text when the notebook is inaccessible.
---
Information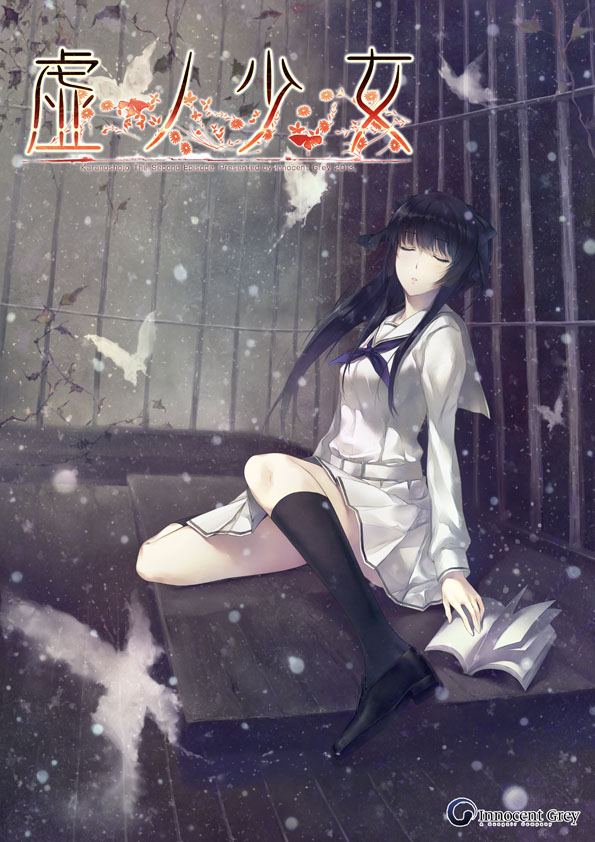 Kara no Shojo - The Second Episode
Developer:
Innocent Grey
Price:
$39.95
Release Date:
October 30, 2015
Platform:
Windows XP, Vista, 7, 8, Mac OSX, Linux
Language:
English text, Japanese audio
Genre:
Horror, Mystery
Content:
18+
Close
Le Voyage dans la lune
March, 1921…
A festival was being held on the grounds of a shrine in the settlement of Hitogata, deep in the mountains of Toyama. The Shigusa Shrine, with grounds that seemed excessively large for the settlement's means, was the only shrine in the settlement and served as a foundation for its residents.
Before the hall of worship was an enclosed stage, stands lining the road leading to the shrine.
The Hinagami brothers, Shizuru and Yuzuru, walked the grounds, surveying the stands. They were too old to really enjoy the festival anymore, but they enjoyed watching the people here have fun.
"It's nice when it's lively like this," the older brother, Shizuru, murmured. "Don't you think so?"
"I suppose," Yuzuru agreed unenthusiastically. "Of course, it's just the same people as always."
"Obviously. Nobody comes here from the outside. But there are still some things to see, right?"
Shizuru turned his gaze to an area not far away. Yuzuru looked in the same direction. A pair of women wearing kimonos more glamorous than usual were walking toward them. The women themselves, on the other hand, were perhaps a little too young to be considered "glamorous."
"Oh?" The older one—a year Yuzuru's junior, regardless—looked up at the two. "Should the heir to the Hinagami family really be goofing off around here?"
"That's got nothing to do with us yet," Shizuru replied. "I thought the Shigusas were even busier?" He asked, not to the girl who spoke to him, but the girl next to her.
"There's still time before the offering," the girl—Shigusa Miya—responded.
"Besides, I don't have any responsibilities this year since Saya's dancing. So I'm enjoying the festival with Chikage-san." Miya looked up at the older girl—Kuroya Chikage.
"Care to accompany us?" Chikage addressed Yuzuru.
"Huh? Me?" Yuzuru replied.
"Who else?" Shizuru laughed. "She's your fiancée, is she not?"
"Well, yeah..." Yuzuru glanced at Chikage. Shizuru was to succeed the Hinagami family, so it had been decided that Yuzuru was to marry into the Kuroya family which had no son. "But that was our parents' decision—"
"And you know we can't go against them, right?" Shizuru sighed.
"Do you not want to marry me, Yuzuru-san?" Chikage peered at Yuzuru's face.
"I've got something I have to do before I join the Kuroya family." Not long from then, a government medical school was to open in the neighboring prefecture. He couldn't join the Kuroya family—the settlement's only doctors—until he studied there.
"Let's go, then." Chikage tugged Miya's hand.
"I guess we're all going together." Shizuru gave a wry smile.
After looking over the stands, the group entered the enclosed stage. Unlike the lively festival outside, here, it was dead silent.
"You're here." Their father Hideomi's voice resounded.
"Excuse us." Shizuru sat down next to Hideomi. Chikage sat a short ways away, and Miya headed backstage.
Yuzuru sat down beside Shizuru and glanced at his father out of the corner of his eye. He was the leader of the village, and even his family could not disobey him. Even his older brother, who normally led an uninhibited life, was docile before Hideomi.
The two boys silently watched the dance performed by Shigusa Saya in the Miko's mask.
Close
L'Affaire Lerouge
The Shigusa Shrine stood in the northern mountains, a part of the settlement known as Atohinna.
Saya, the second daughter of the chief priest, Yoshimitsu, left the shrine office where she lived from the back entrance. She held a small dining table in her hands and walked cautiously to ensure the miso soup on top didn't spill. She reached the storehouse after a short distance and set down the table for a moment.
"Please excuse me," she called inside as she removed the bolt on the door. The door creaked as she opened it. The candlelight flickered. "I've brought you your meal."
"Thank you." The voice came from a girl much like Saya. "Please leave it there." The girl—Rika—pointed to the wooden floor.
"Y-Yes. Very well." Saya hurriedly left the table on the floor when she was able to pull her gaze away from Rika's slender, pale fingers.
"Thank you." Rika showed her gratitude once more.
"No, this is simply my duty." Saya bowed her head. "I'll come to retrieve the table later." She took her leave.
She ran through the shrine's backyard, returning to the shrine office. Her heart was pounding. It must be due to my running, she thought.
"Saya," her sister Miya addressed her.
"What is it, Nee-sama?" she responded after getting her breath under control.
"How was our guest?"
"The same as always," Saya said.
"I see. By the way, Saya."
"What is it?"
"Do you have a fever? Your face is red."
"It's nothing." Saya shook her head.
"As long as you're okay..." Miya said, tilting her head to the side.
Saya returned to her room and exhaled. She waited for her breathing and pulse to slow. She'd have to go retrieve the dining table from the storehouse shortly.
She must calm down before then.
"Phew..." After exhaling several times she placed her hands on her cheeks, making sure her face didn't feel hot anymore, before heading outside again.
"Rika-sama," she called into the room, the bar still removed from the door. "Are you finished eating?"
"Yes." She opened the door at Rika's voice. The girl was lying on the wooden floor.
"I-Is something the matter?" Saya rushed over to Rika.
"I'm full," Rika muttered.
"Please don't scare me like that," Saya said, sighing in relief.
"Heheh..." Rika rolled around on the floor. The skirt of her kimono was disheveled, her legs exposed up to her thighs.
"Y-You mustn't be so immodest." Saya grabbed Rika's skirt and covered her, even while entranced by her bare, pale legs.
"...Heh," Rika laughed. "It doesn't matter if no one's looking, does it?"
"It does matter, so please sit properly."
"You're no fun," she said, though she fixed her skirt and sat up properly. "...Say, Saya."
"Yes?" Saya replied, cleaning up the table.
"I want to go outside."
"That's—" Saya couldn't seem to find the right words. "I don't have the authority to say anything on the matter."
"I know," Rika laughed.
"But you'll have to greet the Hinagami family soon; when that time comes, you'll be able to go outside..."
"I'll look forward to it." Saya left the storehouse, Rika's smile at her back, and placed the bar on the door again.
Close
La Main coupée
Spring had come, but snow still remained in the village of Hitogata. Even so, the mountains of snow created from shoveling were getting lower and visibility had increased.
Yuzuru looked out over the settlement from the Hinagami estate. He saw a figure at the crossroads in Kamihinna, a woman he'd never seen before wearing a brilliant red kimono. He was familiar with Saya, next to her, however.
"Good day," Saya greeted Yuzuru when she arrived at the estate. "Is the head of the family here?"
"Yeah, he's inside," Yuzuru answered, gazing at the girl who stood beside Saya.
"My name is Rika." She bowed her head, noticing his gaze. "I'm staying with the Shigusas as a guest."
"I see." Knowing nothing of the matter, that was all Yuzuru could say.
Yuzuru followed them inside, where they were taken directly to Hideomi. Yuzuru entered the living room to find Shizuru sitting at the sunken hearth.
"What's wrong, Yuzuru? Something happen?"
"A guest's here, from the Shigusas."
"The Shigusas? Oh, the one dad was talking about." Shizuru seemed to know something about her.
"You knew?"
"Well, I'm supposed to join this meeting too." Shizuru didn't elaborate. "Guess I should go." He stood and headed to their father's room.
He was intrigued, but Yuzuru wasn't one to eavesdrop. He sat down in front of the hearth and poured some water from the kettle on the pothook into a teapot.
When the tea in his cup had begun to cool,, he heard footsteps on the veranda.
"Oh?" He raised his head to see the girl who had called herself Rika. "Are you supposed to be back there?"
Yuzuru asked the girl, who looked to be a few years younger than him.
"Well, I'm bored," Rika muttered, sitting down on the veranda. "Are you a Hinagami too?" Rika turned her head to Yuzuru.
"I wouldn't be here if I weren't."
"I see." Rika suddenly lay down on her back.
"Umm..." Bewildered by the girl's eccentric behavior, Yuzuru was at a loss for words.
"How boring." Rika looked up at Yuzuru, her face upside down from his perspective. "Was that your brother?"
"I suppose so," Yuzuru said.
"You two are pretty different, huh?"
"You think so?" Shizuru and Yuzuru were only a year apart, which may have been why people always said they looked alike.
"You're completely different. I mean, he's—" Rika suddenly stopped. "I should go." She said as she stood, returning down the veranda.
Yuzuru wondered what she was going to say about Shizuru. They weren't very different on the outside, but Yuzuru knew that on the inside, they were nothing alike. Perhaps she'd noticed that.
But how could she have? They'd just met... Not only that, but it was the first time they'd ever spoken. It seemed as though she had somehow seen into his heart, and that thought made Yuzuru a little uncomfortable.
Shizuru returned.
"Hey, brother."
"Sheesh, dad's always so abrupt with this stuff." Shizuru sat down at the sunken hearth and grabbed a teacup. "It's cold."
"I'll brew some now." Yuzuru poured water into the teapot and tea into a different cup.
"Looks like I'm gonna have to get married." Shizuru suddenly muttered.
"To that girl?"
"Guess so. I don't plan on settling down this early, though." Shizuru sipped his tea. "But I suppose you might be marrying first."
"But I haven't—" Chikage's face surfaced in Yuzuru's mind.
"I'm heading out for a bit." Shizuru stood.
"Where to?"
"Just got some stuff to do." Shizuru said as he left the living room.
Close
Où est Zénobie?
Saya climbed the steps to the shrine, leading Rika home from the Hinagami residence. Even though it was spring—or rather, precisely because it was spring—the steps had become slippery with ice.
"Do be careful, Rika-sama." Saya reached out to Rika.
"Thank you." Rika accepted, extending her warm, soft hand. Saya grasped it tightly.
"Not so tight. That hurts."
"I-I'm terribly sorry." Saya loosened her grip but didn't let go.
"Heheh..." Rika laughed.
"What is it?" Saya asked.
"Nothing... I'm sorry. You're just so cute."
"No, I'm... not." Saya shook her head.
"You are. You're ever so cute." Rika let go of Saya's hand and touched her cheek instead.
"R— Rika-sama?" Saya's eyes were glued to Rika's fingertips.
"...Heh." With a bewitching smile, Rika removed her hand from Saya's face and started climbing the stone steps again.
Night fell, and Saya's father Yoshimitsu summoned her. "Do you need something, Father?"
"Mm..." Her father nodded calmly. "You'll be staying in the storehouse for a little while starting today."
"Certainly..." Only after agreeing did Saya realize the meaning of the words. "What is this about?"
"Living in that storehouse alone is difficult, it seems." Saya tilted her head to the side at her father's words. Rika had never shown any sign of that to her before.
"As you wish." Saya accepted regardless, bowing her head deeply.
Before going to Rika, Saya returned to her own room. As soon as she entered the room, she sat down with the sliding door at her back. She had feigned composure in front of her father, but she was at a complete loss now. Thinking about what she'd need to live in the storehouse, she opened her closet.
Is there already a futon over there? She should probably at least bring her pillow.
Finishing her preparations, Saya took a candle and headed to the storehouse. The bolt on the door was unlocked.
"Please excuse me." She entered the room, bowing her head. "I will be imposing on you starting tonight."
"I've been waiting for you, Saya." Rika greeted her, smiling. Two futon were laid out in front of the hibachi. "It's so boring living here alone. Will you chat with me?"
"Well, of course..." Saya responded nervously to Rika's carefree smile.
"Heh," Rika laughed. "There's no need to be nervous."
"I'm not..." Saya shook her head, but it was clear that she was, indeed, nervous.
"Would you like some tea?"
"Oh, I'll make some." Saya knew that it was her duty.
She drew some water from a jug on the dirt floor and poured it into an iron kettle, leaving it on the stand over the hibachi. The two of them sat still, silently watching steam rise from the kettle's spout.
"Rika-sama," Saya began.
"What is it?"
"Why did you call for me?"
Rika's bubbling laughter again. "I told you, didn't I? Because I was bored. Won't you do something fun with me?"
"Sure... but I'll make our tea first." Saya put her hand on the handle of the kettle. "Ouch!"
"Oh, are you okay?" Rika grasped Saya's hand after she touched the hot handle. "Oh no, it's all red." With those words, Rika put Saya's fingers in her mouth with no hesitation.
"Ah—" Rika's tongue licked at Saya's fingertips. "U-Umm..."
"We can't have it leaving a mark," Rika muttered after removing the fingers from her mouth. "Does it still hurt?"
"N-No." The pain from the burn had completely subsided.
"I'll make the tea." Rika grasped the handle of the kettle. All Saya could do was watch her stiffly.
Close
Le petit vieux des Batignolles
A year passed and the season of the festival came again. Shizuru and Yuzuru stood in front of the stage constructed at the Shigusa Shrine. They'd heard this year's festival would be special.
"What do you suppose is gonna happen?" Yuzuru asked Shizuru.
"Who knows." Shizuru glanced around disinterestedly.
"What's wrong?"
"I don't see the old folks."
"They're probably off preparing."
"I guess." Shizuru kicked the snow on the ground.
"Why are you in such a foul mood?"
"You know about the marriage, right?"
"Oh, that?" Shizuru and Rika's marriage had been made official. Shizuru had been sulking ever since. That was only to be expected, though, Yuzuru thought after having seen her odd behavior… "Come to think of it, she's not here." Yuzuru realized he hadn't seen her. It wasn't as though all of the Hinagamis and Shigusas were present, but there was no sign of her.
"It doesn't matter if she's here or not. Your fiancée's not here either."
"She's going to be late, I hear." It was decided at his birth that Yuzuru would be adopted into the Kuroya family, but the word "fiancée" still didn't seem real to him. He'd rather go out into the world and study medicine than have to stay in this troublesome family with its customs and all that. "So, how's Tokyo?" Yuzuru changed the subject. His brother had started working at the Hinagami Pharmaceuticals business office in Tokyo.
"It's pretty crazy with the Prime Minister being assassinated by those hoodlums and everything else. Looks like there are more and more pharmaceutical companies these days too." Shizuru shrugged. "I suppose it's still worth it, though."
"That's good, isn't it?" Yuzuru was both surprised and relieved at the amount of motivation his brother had.
The curtain flipped open and Hideomi and Yoshimitsu entered the enclosure.
"Let's begin." The chief priest Yoshimitsu declared the beginning of the show. Fires in iron baskets lit up the previously dark stage. A black-clothed Miko emerged onto the stage bathed in orange. She bore a small frame, face hidden behind a demonic mask. She could only be described as a shadow.
Though the fires were lit, it looked to Yuzuru like the mask alone floated above the stage.
"What a farce," Shizuru muttered next to him. "None of these anachronistic customs remain in Tokyo."
"Shut up, Shizuru," Yuzuru chided his brother in a low voice. It wouldn't have been pretty if Hideomi, who sat nearby, heard.
"You don't need to worry." Shizuru pointed his chin over at Hideomi. Their father sat stock still, watching the stage. It didn't seem like he'd be paying them any attention. And on stage... the Miko danced, holding a gohei aloft.
Yuzuru wondered what was so special about all of this. It hardly seemed any different than when Saya performed as the Miko. The only thing that was different was the way Hideomi and Yoshimitsu watched the performance. They were usually very severe, but today something was clearly different about them.
The hyoshigi rang out and the chief priest Yoshimitsu stood, rising to the stage with a large sake cup. He laid the cup in front of the Miko and poured sacred sake into it. The Miko shook her gohei and took a lump of something out of her sleeve. She held it reverently in her hands and brought them together, crushing it between them. It crumbled and fell into the sake cup; it looked like it was a lump of dirt. The Miko held the sake cup over her head and stepped back.
"What do you suppose that meant?" Shizuru whispered to him.
"How should I know?" Yuzuru said, nonetheless considering it. Nothing like this had happened in previous festivals. So was this what made it so special?
The festival ended. The curtains were removed and the stage was bared. Yuzuru had not the slightest clue what that dance had meant.
Close
Les Deux Merles de M. de Saint-ars
The whole settlement was astir the next morning. Yuzuru donned a short winter coat over his sleepwear and emerged from his room. Shizuru was in the living room.
"Did something happen?"
"No idea; I was just thinking of heading out to see." Shizuru stood. "Seems like something's happened in Hidarihinna."
The Hinagami residence was in Kamihinna, but near Hidarihinna. That was why they could hear the clamor.
When the two of them left the house, the tumult seemed to grow stronger. The voices seemed even louder to Yuzuru, who was accustomed to the settlement's usual quiet. They descended the hill, rushing to the area the residents were gathered in.
"What happened?" Yuzuru asked a nearby man.
"Well, apparently Chojiro-san was murdered."
"Murdered?" Shizuru repeated the alarming word.
"Y-Young Master..."
"Does anyone have the whole story?" Shizuru called out to the area.
"Calm down, Young Master." A man came out of a nearby house and stopped Shizuru.
"So-san..." It was Kuroya So, the doctor at the Kuroya Clinic and Yuzuru's soon-to-be father-in-law.
"What happened?" All Shizuru could do was turn to So for answers.
"I've got to let your father know before I explain things to you. Go and fetch him for me, would you?"
"I understand." With a glance at Yuzuru, Shizuru turned around and ran down the snow-covered road.
"So-san, I—"
"I'll need you to help me out. You're going to have to if you want to be a doctor." So's weighty words gave Yuzuru a bad feeling.
"I'm not even a medical student yet."
"You'll be one by next month; it's no problem." So dragged Yuzuru into the house.
The room was dark, devoid of any lights. An odd smell permeated the air.
"So-san, this—"
"This happens every once in a while here. You'd do well to remember that." So opened the door to the inner room. The stench hit Yuzuru immediately.
"Ugh..." Yuzuru had to cover his mouth. The smell of filth stung his eyes, and yet Yuzuru opened them wide, staring straight ahead. There was a sea of blood on the futon, a dark red lump... It took him a few moments to realize that it was a corpse. Though he had been prepared, when he saw it, the shock was immeasurable.
"Go empty your stomach for now. The bathroom's over there."
"No... I'm alright." He couldn't let something like this deter him. Swallowing saliva and sour gastric juices, Yuzuru faced the old man's corpse.
Upon closer inspection, he noticed that the body's stomach had been sliced open.
"What on earth is going on?"
"It's Hinna-sama's Curse." So's voice resounded dully. "You'll understand when you're a little older."
"This is Hinna-sama's..." Yuzuru had heard the name before. It was the name of the Hitogata Settlement's guardian deity, connected both to the Hitogata and the Hinagami name.
"Hinna-sama promises prosperity if worshipped properly, but worshipping improperly will call down the curse," So muttered while covering the corpse with the futon. "Keep it a secret that I told you this."
"I don't mind, but aren't you going to contact the police?"
"That's something your dad gets to decide." After that, So signaled Yuzuru to leave the house with him.
Shizuru had brought Hideomi back with him. "We'll take care of the rest," Hideomi informed So.
"I know." So shrugged and let Hideomi pass.
"Shizuru..." Yuzuru called out to Shizuru as he tried to follow his father inside.
"Seems like this is something for the next head of the Hinagami family to do," Shizuru muttered and entered the building.
Close
Vendetta, A Story of One Forgotten
Several days later, Yuzuru visited the Shigusa Shrine. Knowledge of the incident had spread among the residents in the blink of an eye. It wasn't made public, of course, but everyone was saying that Hinna-sama's Curse had occurred. But that rumor hadn't spread to the Shigusa Shrine. There weren't many people here, of course, but more importantly, this was the place where Hinna-sama was worshipped—though that wasn't entirely accurate.
Rika sat on the veranda of the hall of worship. She was staring at the sky, having not noticed Yuzuru. Yuzuru was fascinated by her vacant expression for a moment. Rika lifted her hand, palm up, to the sky, and a sparrow that was flying nearby perched on it.
"Heheh..." Rika gave a quiet laugh.
"Are you feeding it?" Yuzuru finally spoke to her. The sparrow flew off.
"Oh..." Rika finally turned her head, noticing Yuzuru. "I went to all that trouble and it flew off."
"You can't teach a sparrow the taste of rice, you know. They'll eat all the crops in fall."
"Isn't it more important to take care of the pests on them before they ripen?" Rika smiled.
"Maybe, but—"
"So you think all about potential harm rather than potential benefit." Rika's face grew closer.
"It's normal to think about diminishing loss, right?" Yuzuru said, turning his face away.
"You're like a manager." Rika laughed.
"That'd be my brother."
"Then is it your opinion as a doctor?"
"If you make a mistake with doses of medicine, it can become poison, you know."
"Exactly." Rika's bubbling laughter. "So, do you see me as a medicine, Doctor? Or a poison?"
"That's— I'm not even a doctor yet, so how should I know?" Yuzuru shook his head. He wasn't good at exchanges like this.
"I know I'm a poison," Rika said. "Can a doctor cure this?"
"...I don't know." That's all he could say in response.
"I'm sorry for putting you on the spot." Rika apologized with surprising ease.
"There's no need to apologize." Yuzuru knew it was all because of his inexperience. "I think you should start by not being so hard on yourself. Just think about whatever you can do, or—"
"You're a kind person." Yuzuru was taken aback by her sudden words. "If I had to get married, I'd rather it be to you."
"...My brother's far better than me."
"As a medicine? Or... as a poison?"
"A medicine, of course."
"He is a pharmacist." Rika laughed. Yuzuru just couldn't seem to get used to these exchanges.
"My brother's a good guy." Yuzuru honestly believed that. "I think you suit each other."
"That would be nice," Rika muttered.
"You don't like him?"
"I don't know. We've never even really talked. But... I can't break the rules." No one in the settlement could go against something the Hinagami and Shigusa families had decided. There was no such thing as democracy here. "You're the same, aren't you?"
"...I suppose so." Yuzuru was in no position to go against what they'd decided, either. That's why he was marrying into the Kuroya family.
"...Heheh." Rika laughed and stood up. "I feel better now. Thank you."
"Did something happen?"
"Nothing happened; that's why I was feeling down." After muttering those incomprehensible words, Rika stepped down from the veranda and walked over to the shrine office.
Close
Black Venus
"Rika-sama," Saya called into the storehouse through the closed door.
"Come in." She opened the door after receiving Rika's permission.
"Your bath is ready, Rika-sama." She informed Rika of her business.
"Thank you." Rika stood and donned her leather sandals.
She entered the back door of the shrine office, where the bath was. After removing her sandals, Rika stood on the drainboards and unwrapped her obi.
"I'll take that." Saya took the obi carefully so that it wouldn't get twisted. She hung Rika's kimono on the clothes rack.
"Have you had yours?" Rika turned around in her underclothes.
"No; I will bathe last. I'll wait here."
"But you'll catch cold. You should get in too." Rika pulled Saya's hand.
"Oh—" Saya lost her balance and fell onto Rika.
"Are you alright?"
"Y-Yes." Saya nodded, head buried in Rika's chest. She could feel Rika's body heat through her silk underclothes.
"Come on, you undress too." Rika touched Saya's obi.
"Umm, I can... do it myself." Turning her back to Rika, Saya took off her kimono. She'd rather Rika not see her scrawny body.
She turned around, hiding behind a hand towel, and Rika's pale skin leapt into her vision.
"R-Rika-sama..."
"What is it?" Rika cocked her head.
"You should cover yourself..."
"We're both girls. It doesn't matter, does it?" Rika laughed. Her breasts, normally obscured by her kimono, perked upward. She opened the wooden door and headed inside. It was warm, steam rising from the bath Saya had just prepared.
"Come on in." Rika knelt down next to the bath and scooped some bathwater into a bucket.
"Let me take care of—"
"I'm the older one, so let me take care of you for a change." She made Saya kneel down, rather forcibly, and poured the bathwater over her.
"Too hot?" Rika asked her.
"No, not at all," Saya answered, face down, too embarrassed to look Rika in the face. Rika's legs entered her vision instead. Her toenails were beautifully even, her skin faintly red, not a trace of hair on it.
"Aaah..." Saya squeezed her eyes shut as the water was poured over her head. Rika brushed Saya's hair back.
"Heh... Such pretty hair."
"It doesn't compare to yours, Rika-sama." Saya shook her head.
"That's not true." Rika pulled Saya's hair together swiftly.
"Now allow me..." Saya headed behind Rika and scooped water into the bucket.
"Thank you."
She slowly poured the water over Rika's back.
"Nh..." Rika stirred. She'd stopped growing, and her body was completely that of a woman's. Saya slowly looked at her own body, nothing but a girl's. So this is the difference only a few years makes?
"What is it?" Rika looked behind her.
"Nothing..." Saya shook her head and gathered Rika's hair together. "Please, go ahead." Saya urged her, but Rika shook her head.
"Why don't we both get in, given the opportunity?" Taking Saya's hand, Rika got into the bath. Saya followed reluctantly. The bathwater rose up and spilled out.
They had to entwine their legs to both fit in the bath. Saya's leg was between Rika's thighs. Her toes touched Rika's pubic hair. Saya looked down between her own legs; she only had sparse hairs growing there, making her feel even more embarrassed. Rika's white legs were right beside her. Saya was unable to raise her face, merely staring down dizzily at her toenails.
Close
Armorel of Lyonesse
Yuzuru was reading a book in his room. It was the dead of night and he was about to get to bed when he heard a tapping on his window. Yuzuru sighed and opened the window without bothering to look through it.
"I'm back."
He sighed again when his prediction was correct. "Welcome home."
Shizuru climbed through the window with his shoes off. "Studying again?"
"Reading for pleasure, actually." He showed the cover of the book to Shizuru.
"I can't believe you read such thick books."
"It's just a fun novel from overseas."
"That makes me even less interested. There are better things to do for fun, aren't there?"
Yuzuru shrugged at Shizuru's words. "I don't want to tell you what you can and can't do, but everything in moderation, right?" It was obvious that Shizuru had been at some woman's house.
"Don't tell dad, okay?"
"I won't." If he did, he'd probably have gotten in trouble himself for keeping it a secret for so long. "You're getting married soon, right? How about examining your life a little?"
"I'm not married yet," Shizuru replied without a hint of timidity. "You don't need to worry."
"I'm not that worried." In the end, it was Shizuru's problem, and had nothing to do with Yuzuru.
"Well, I'm gonna play around all I can before settling down."
"How carefree." Yuzuru sighed. "You don't want to succeed the Hinagami family, do you?"
"Not really, no. It's one thing to be a pharmacist, but there's no point in playing king of the hill out here, right?" Shizuru shrugged. "We've got all these weird customs. Westernization has completely left us behind."
"Hey..." Yuzuru decided to ask something that had been on his mind for some time. "If you really don't want to succeed that badly... why not trade with me?"
"Don't be stupid." Shizuru laughed it off. "We can't just go and change the decision the old men have made, right? And are you saying I should start studying to become a doctor now?" Shizuru pointed at the reference books on Yuzuru's desk.
"You need medical knowledge to be a pharmacist too, right?"
"I dunno how it used to be, but what the president needs now is management knowledge. The researchers handle the manufacturing." Shizuru picked up his shoes and stood. "Well, I'll get back to my room before dad notices I'm gone."
Yuzuru lay on the tatami after Shizuru left. He didn't really want to switch positions with his brother. All that he'd achieved so far would be for nothing if he did that. Besides, he was looking forward to joining the Kuroya family now. If it meant he could escape this unchanging Hinagami family…
Rika's face surfaced in Yuzuru's mind. He shook his head and drove the thought away. She was his brother's fiancée. She couldn't be the object of his illicit love. And Yuzuru had his own fiancée, Chikage.
Yet he couldn't get the thought of Rika out of his mind.
Close
Les Misérables
Spring came and Yuzuru started attending the medical school in Kanazawa. It was far from the Hitogata Settlement, of course, so he was staying in a house near the school. Everything was fresh for him now that he was leaving the village for the first time. He came to realize that the insular nature of his village wasn't normal.
Summer vacation arrived and Yuzuru returned to the settlement for the first time in several months. All that had changed there was the season. Mulberry leaves grew thick on the trees and stalks of rice swayed in the fields. Everything was just as it had always been. But the view looked a little different to him, perhaps from being gone for so long.
"Hey, Young Master." A man called out to him at the bus stop in Maehinna. It was Kuki Saizo, who worked at the village administration branch office. "Is it break time for students already? Where were you, Kanazawa?"
"I thought it was pretty close, but it took a pretty long time."
"Well, when ya gotta take the train, ya gotta go from Shirohata to Takaoka." Saizo laughed.
Parting from Saizo, Yuzuru slowly walked between the rice fields. There was no need to rush. He was sure he wouldn't have an opportunity to rest when he got back to the Hinagami house, anyway. His feet naturally took him to a different place. He climbed the steps from Kamihinna to the shrine. On the way there, beneath the torii... there she was.
"Oh, my." Rika raised her head. "It's been a while."
"Hey." That was all Yuzuru could say. He didn't expect them to meet so suddenly. Rika sat down on the stones.
"What are you doing in a place like this?" No one was around. Yuzuru couldn't help asking, thinking it strange.
"Just observing." Rika showed Yuzuru the palm of her hand. There was a white mass wriggling on it.
"Whoa..." Yuzuru recoiled, taking a step back. Rika giggled at the display. "Silkworms?"
"Yes... I came to find some." This area always had a prosperous sericulture; there were some families that still raised them in their attics. "I keep trying to put them on this leaf, but they just fall off." Rika put the worms on a mulberry leaf.
"Well, silkworms can't survive on their own. If you leave them alone, they die in a single day."
"Really?" Rika poked a silkworm with her finger. The white lump on the leaf fell right to the ground. "Heheh..." Rika laughed. "How weak... just like me. We just can't live on our own."
"No one can," Yuzuru said, an attempt to comfort her.
"You think so?" Rika cocked her head. "You can't live alone either? You're living alone now, aren't you?"
"There are still a lot of people around me." Rika's head still faced down as she poked the silkworm. "You have people supporting you too, don't you?"
"I suppose you're right. But that's because I'm a guest. Saya takes good care of me."
"My brother does too, doesn't he?"
Rika cocked her head again at Yuzuru's words. "...I don't know. We've barely talked. He's going to be in Tokyo for a long time again now too." Rika sighed. "But he's going to be my husband, so I have to believe in him and stand by him, right?"
"Can you believe in my brother?" Yuzuru asked her.
"I don't know. I don't even know what sort of person he is. Oh... I know—why don't you tell me?" Rika smiled at him.
"My brother, eh?" He wasn't sure how to answer. Should he give her a biased account of his relative, or tell it like it is?
Unable to decide, all Yuzuru could do was stand there stiffly.
Close
A Woman in Grey
"C'mon..." Rika called out to the silent Yuzuru. "I want to know what you think. No flattery, just what he's really like."
"I got it." Yuzuru nodded. "From my point of view as his brother, he's a good-for-nothing."
"What do you mean?" Rika asked.
"...In any event, he's always been a philanderer. So you should be careful." He hesitated to tell her that, but Yuzuru figured he should be honest about such matters.
"I don't know what that means." Rika cocked her head. "I don't really know, but is that a bad thing?" Rika's clear eyes looked up at Yuzuru.
It would have been simple to declare that it was bad. But he couldn't. Yuzuru realized that he was falling in love with Rika.
"What do you think?"
"I'm... not like my brother." Yuzuru shook his head. "I won't do what he does."
"I see." Rika sighed. "You have a fiancée as well."
"Yeah, that's right." That was why he couldn't be like Shizuru. He knew he couldn't, but…
"...Rika."
"Oh? Just 'Rika' now?"
Yuzuru stepped up to the smiling Rika. "I... well, I can treat you right."
"You're not even the heir to the Hinagami family... There'd be no point." Rika looked down.
"I would take over the Hinagami family for you." Yuzuru put a hand on Rika's shoulder. Rika's back touched the torii.
A clap rang out as Rika slapped him.
"Gh... I-I'm sorry." He took his hand off of Rika's.
"I didn't think you were that kind of man." Rika stood.
"...I'm sorry."
"There's no need to apologize." Brushing the dust from her kimono, she turned around. "You're the heir of the Kuroya family. There's no getting out of that now, is there? If you were the Hinagami heir from the start, there'd be no problem." With that, Rika walked off under the torii to the shrine.
Yuzuru couldn't go after her. He knew that no matter how much he may have wanted to, he couldn't succeed the Hinagami family now.
He looked down at his feet, holding his cheek. Crushed silkworm larvae lay there. He wasn't sure whether it was him or Rika who'd trampled them.
Close
Le Comte de Monte-Cristo
In 1924, Hinagami Shizuru and Rika married. Yuzuru attended the marriage as a Kuroya, having married Chikage the previous year.
Rika in her white kimono and Shizuru in his kamishimo stood before the Shigusa Shrine's hall of worship, and the master of ceremonies, Yoshimitsu, cleansed the area with a gohei. It was the same ceremony Yuzuru and Chikage had last year.
"They're beautiful," Chikage murmured from her seat beside him. She was constantly holding her enlarged belly. Yuzuru glanced at her, a complicated look on his face.
There was a reason Yuzuru married while he was still a student. It was because Chikage's condition was poor. They'd held the ceremony early in order to ensure there was an heir. He didn't agree with the old way of thinking, that she must leave her blood first and foremost, but he also didn't want to ignore Chikage's feelings.
After Yoshimitsu's invocation of the gods, the exchange of nuptial cups began. Shizuru took the cup of sake first, then Rika, then it returned to Shizuru. They took turns drinking three times. With a final bow, they left. There was nothing so boorish as applause.
Miya and Saya stood in front of the bride and groom in shrine maiden garments and holding tamagushi. Shizuru accepted the tamagushi and headed to the altar, offering it there.
Yuzuru glanced at the attendees. They were all Hinagamis, Shigusas, or Kuroyas. In other words, no one from the bride, Rika's, family was in attendance. Her relatives may have been Shigusas, of course, since she'd named herself as such.
But the wedding finished with no problems and Yuzuru left the hall of worship with Chikage.
"I hope they're happy together." Chikage turned around and looked up at the shrine.
"Yeah." Yuzuru wished that all the more earnestly knowing what their situation was like.
After sunset, a reception was held in the Hinagami estate. Food and drink were lined up in the hall and the residents of the settlement came one after another to congratulate them.
Hideomi received the guests for the most part, Shizuru and Rika sitting next to him.
Yuzuru was there alone after taking Chikage home to rest in the Kuroya house. He drank at the foot of the table as he was no longer a member of the Hinagami family. However, since he was here as the head of the Kuroya family, he couldn't just go home whenever he wished.
"Kuroya-sama." He wasn't used to being addressed that way yet, so Yuzuru looked a little belatedly in the direction of the voice. Saya in her shrine maiden clothing had brought over a bottle of sake.
"Would you like some?"
"...Sure." He held his cup out and Saya poured the sake into it.
"Chisato-san didn't come, huh?"
"She's off in Tokyo, after all." Chikage's younger sister Chisato had gone off to Tokyo to marry a doctor named Kuchiki. She was also pregnant with her first child and couldn't easily make the long journey to Toyama.
"Pardon me." Saya stood and headed over to Hideomi. Hideomi, intoxicated and in a good mood for a change, accepted her sake. Yuzuru scorned him secretly, thinking it slovenly to ogle a girl younger than one's own children. That's when he realized it—Shizuru's love of women must have been because of his father's blood.
Yuzuru gulped down his drink. He was aware that the same blood flowed through his veins. He moved his gaze from Hideomi to Shizuru... and to Rika, next to him.
Their eyes met. Rika looked over at him and smiled, her face slightly red from the sake, a hand on her cheek.
It was only for a moment, so Yuzuru may have just imagined it… but Rika's eyes looked a little moist to him, and that image seared itself into Yuzuru's mind and never disappeared.